Washington Oaks offers a taste of Florida's history at a lush oasis on Florida's Nature Coast. The park is renowned for its 20-acre formal garden and its one-of-a-kind shoreline of coquina rock formations that line its Atlantic beach.
Situated between the Atlantic Ocean and the Matanzas River, the property was once owned by a relative of President George Washington.
The gardens make remarkable use of native and exotic species, from azaleas and camellias to the exquisite bird of paradise. The gardens are great place to take a quiet stroll, enjoy a bike ride, or explore one of several self-guided nature trails.
The scenic shoreline at Washington Oaks is unusual among Florida's sandy beaches, and his home to one of the largest outcrops of Coquina rock. This unusual rusty-colored limestone, part of the Anastasia formation, is chock full of shells.
The shells were cemented together by the mild acid of rainwater over the course of the Pleistocene era beginning about two and a half million years ago. St. Augustine's fort is famous for its Coquina construction, which proved to be a good defense against enemy canon balls.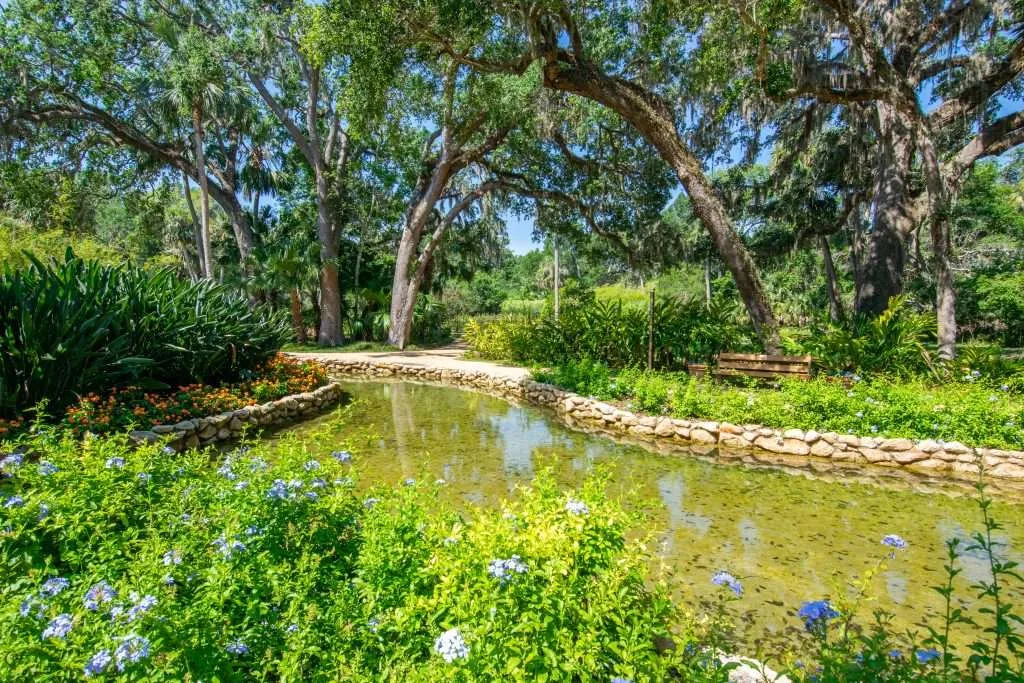 History of Washington Oaks State Park
Before Europeans settled in Florida, Native Americans hunted and fished this area for thousands of years. In fact, the hill in the rose garden is actually a midden, a mound of discarded shells and other items left by generations of native people.
In 1818, Jose Mariano Hernandez, a St. Augustine native of Minorcan descent, bought the land and named the plantation "Bella Vista." Hernandez represented St. Augustine in the legislature in Tallahassee and as the first Representative from the Territory of Florida to the U.S. Congress.
In 1845, Hernandez's daughter Luisa married George Lawrence Washington, a distant relative of the first president of the United States. In 1878, Washington built a small beach house at Bella Vista as a hunting and fishing retreat.
Owen D. Young, Time Magazine's Man of the Year in 1929, bought the property for his wife Louise Powis Clark in 1936 for a winter home and named it "Washington Oaks." Young was at one time the chairman of General Electric as well as RCA. Young's designed and cultivated the gardens until 1965, when Louise gave the property to the State of Florida.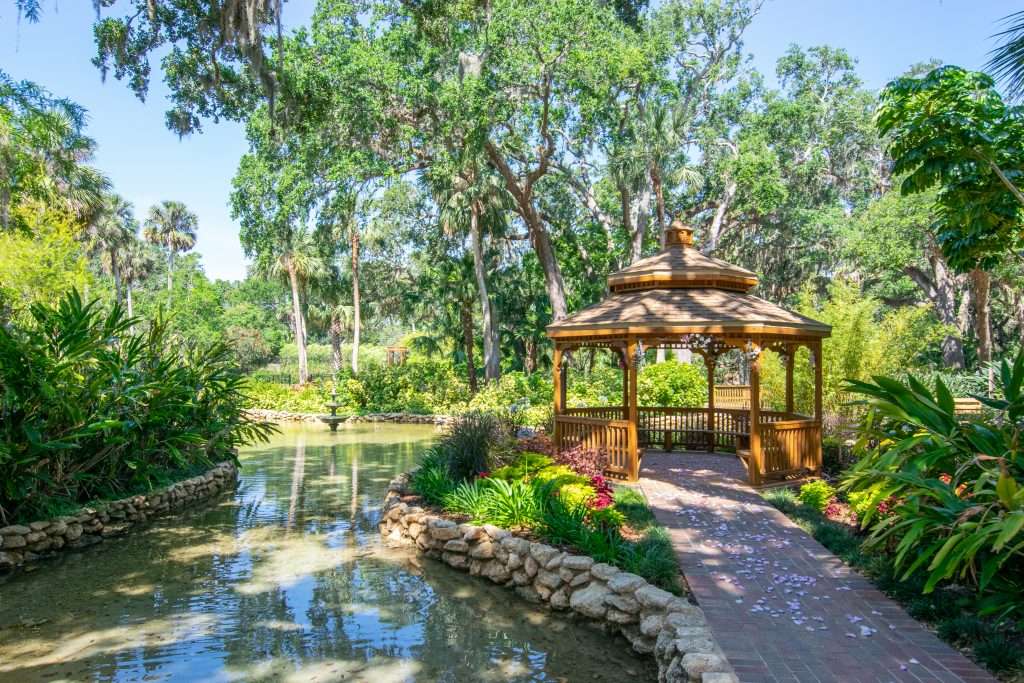 Washington Oaks Gardens State Park is a haven for wildlife and plants. It's home to a 200-year-old live oak tree as well as endangered species, such as the gopher tortoise and the eastern indigo snake. Visitors can savor a picnic and fish from either the beach or the seawall along the Matanzas River.
Bird Watching at Washington Oaks State Park
More than 200 species of birds have been spotted at Washington Oaks according to Cornell University's eBird, making it a birding hotspot on Florida's Atlantic Coast. In addition to familiar Florida species, the park has seen rare visits in recent years from the Yellow Warbler and Philadelphia Vireo as well as a variety of sparrows including the Saltmarsh Sparrow, White-throated Sparrow and Grasshopper Sparrow. Because of its coastal location, its an ideal birding spot for the annual fall and spring migration.
Shoreline Fishing on the Matanzas River & Atlantic Coast
Fishing is another popular activity at the park. Anglers may encounter a variety of fish, including redfish, sea trout, and flounder. Fishing from the seawall on the Matanzas River as well as surf fishing is allowed. Non-residents need to have a Florida Saltwater fishing license, while Florida residents are exempt from the requirement when they fish from the shore.
Washington Oaks State Park – If You Go:
Washington Oaks Gardens State Park is situated two miles south of Marineland on State Road A1A. Admission is $5 per vehicle.
Events at the park include guided nature walks, as well as the First Friday Garden and History walks along with plant sales on the second Saturday of the month.
Visit the website for more information:
https://www.floridastateparks.org/parks-and-trails/washington-oaks-gardens-state-park