SILVER SPRINGS, FL — A traditional "Jungle Cruise" for Florida tourists wouldn't be complete without monkeys. But at Silver Springs State Park, the hordes of rhesus macaques are no longer a planned part of the show. They've been roaming wild since the 1930s.
The monkeys have attracted tourists — and controversy — for years. But a recent report by the Centers for Disease Control has labeled them a public health threat because they carry the potentially deadly Herpes B virus.
Monkeys in Florida have a long history . . .
In the 1930s, a glass-bottom boat operator released the original troop of monkeys on an island. There was just one problem. He didn't know the monkeys could swim  . . .
The monkeys are a common sight along the river, but watching them jump from the overhead trees an swim is a rare experience!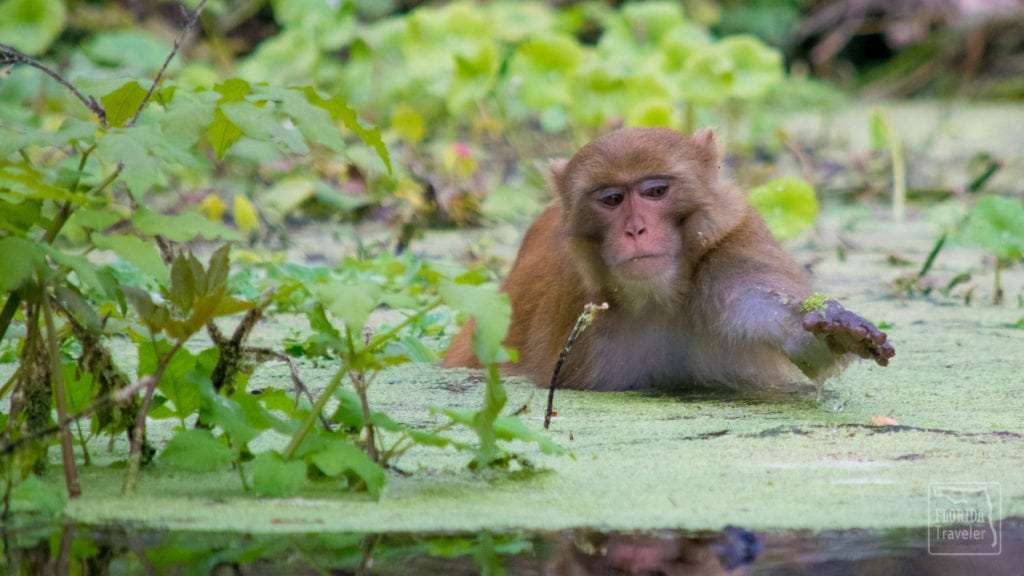 Wild rhesus macaque monkeys have been spotted in several locations in Florida, including Apopka, Fruitland Park and even Sarasota. In addition, feral colonies have also established themselves in Puerto Rico and South Carolina. They are even comfortable living among humans.
Options for removing the monkeys include trapping and sterilization.
Florida's Monkeys Really Are Wild . . .
During a recent trip to photograph the monkeys, a family on a small boat was seen throwing food to dozens of monkeys on shore as their dog barked and the monkeys hissed and screeched. Such interactions may eventually contribute to the removal of the monkeys. Aggressive behavior has led to park closures in recent years.
How to See the Monkeys of Silver Springs
The monkeys range widely along the 6-mile Silver River and along the Ocklawaha River in the Ocala National Forest. They move often, so sightings are never guaranteed. Monkeys are frequently seen within the Silver Springs State Park, which offers glass-bottom boat rides.
Kayakers can now launch near the head spring in Silver Springs State Park. Kayak rentals (including clear-bottom kayaks) are available starting at $20 for one hour. The cost of a full-day tandem rental is $45. Rentals with transportation back from Ray Wayside is $50. For information, call (352) 261-5842.
Another option is to boat or paddle upstream from the Ray Wayside Park boat basin. Parking at Ray Wayside costs $5.