The cinnamon-colored beaches of Palm Coast are an invitation to slow down, relax, and savor simple pleasures. In contrast to the hectic pace of nearby hotspots, the best part of Palm Coast is what's missing: crowds and congestion.
Whether you're basking in the sun on its pristine beaches, exploring its natural wonders, savoring its culinary delights, or simply gazing at the stars, Palm Coast offers a haven of tranquility where time slows down, and breezes play.
When friends ask why we enjoy renting a condo at Palm Coast, our enthusiastic answer is that it's not Daytona, Orlando or even St. Augustine. We found the place by accident a few years back while looking in vain for a last-minute vacation rental near St. Augustine. Our only option was a new condo development called Cinnamon Beach in the resort community of Palm Coast.
What we found was a perfectly manicured and landscaped collection of gated resort communities. Like so many of Florida's planned communities, it imposes a perfection on nature reminiscent of Seaside, made famous by the Truman Show. It's an attempt at perfection that has the advantage of keeping your reading time quiet and the view beyond your pages unspoiled.
Our single complaint might be that this beach consists of coarse sand and a periodically exposed coquina reef. So if beach swimming or sugar sand is your preference, you'll want to look elsewhere. But for us, the opportunity to enjoy Spring Break away from the crowds far outweighs any concerns about the diameter of sand grains.
If you fancy a round of golf, Palm Coast offers several championship courses designed to challenge and delight golf enthusiasts. The oceanfront Hammock Beach Resort boasts the Jack Nicklaus-designed Ocean Course, offering spectacular views and thrilling fairways.
As the day draws to a close, make your way to one of Palm Coast's beachfront parks, such as Flagler Beach or Bing's Landing. Here, you can witness breathtaking sunsets that paint the sky in shades of pink, orange, and purple. It's the perfect backdrop for a romantic evening stroll or a tranquil moment of reflection.
If you're a stargazer, Palm Coast's relatively low light pollution makes it an ideal spot for celestial observation. Lay back on the sand and gaze up at the night sky, where constellations twinkle brightly, and shooting stars make wishes come true.
If you begin to feel restless, you'll find several good options for day trips near Palm Coast. None are so compelling that they'll induce guilt if you pass them by.
St. Augustine: America's oldest continuously inhabited city, just a half hour north, is an outstanding destination if you're interested in old Florida history, shopping, and art. Highlights include the Castillo de San Marcos and the nearby historic district which dates back to the 16th century. Also check out the Lightner Museum, originally Henry Flagler's Alcazar Hotel, which offers a vivid glimpse into St. Augustine's opulent Victorian era. Kids will enjoy the evening ghost walks and the Ripley's Believe It Or Not! museum. For an old world dining experience, try the Columbia Restaurant (the original Tampa location is Florida's oldest family owned restaurant).
Ft. Matanzas National Monument: The rather small Spanish fortress at the mouth of the Matanzas River dates from the 16th century.  The outpost guarded St. Augustine from British attacks from the  south. Although surrounded by natural beauty, the place gets its name from the Spanish word for "slaughters." It was at Matanzas that Spanish colonials murdered 250 French Huguenots in 1564. From the park headquarters, a free boat ride transports you to the fort for a brief tour.
Matanzas Inlet is a popular nearby destination for beachcombing, fishing, and wildlife viewing. Beware, though, the inlet can be packed with tourists on popular holidays and weekends. So if you're looking for a quiet getaway, stop by on weekdays and the off-season.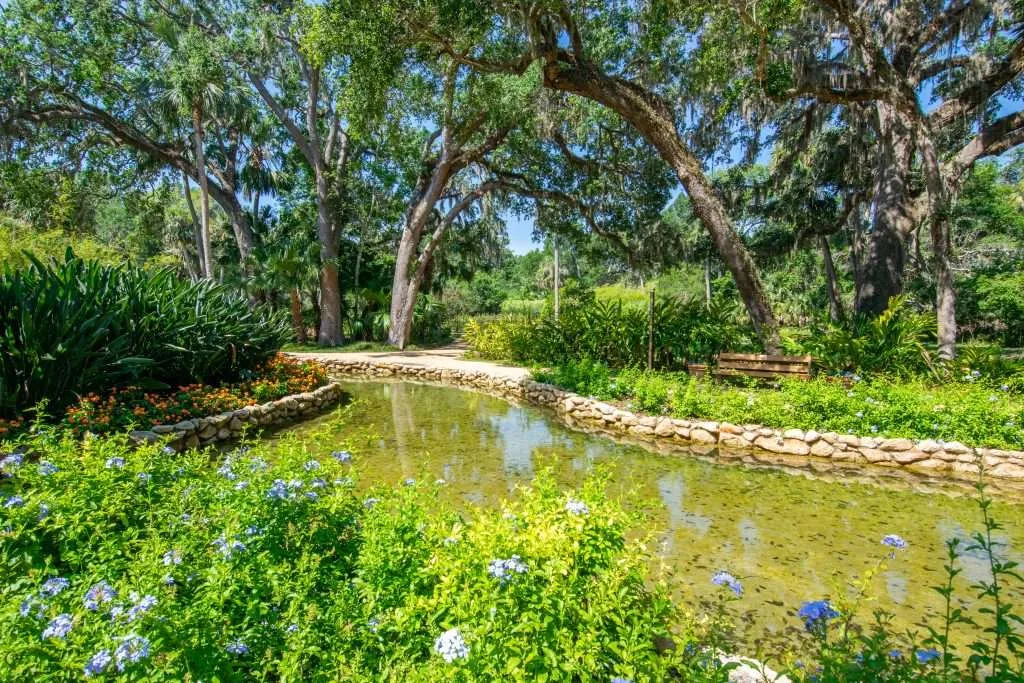 Washington Oaks Gardens: Worth visiting? Sure, why not. Kids will be bored senseless, but if you'd enjoy a manicured garden and a little taste of Florida's Civil-War era plantation history, by all means stop in for an hour or two.
Another hidden gem is the Princess Place Preserve, a secluded wilderness area where ancient oaks and towering pines create a cathedral-like ambiance. Hike, bike, or simply sit in quiet contemplation as you savor the serenity of the surroundings.

Marineland: One of Florida's original tourist attractions is just a few minutes north (combine it with the Alligator Farm in St. Augustine and you'd have a two-fer of old Florida tourist attractions.) As I understand it, Marineland is now mostly devoted to marine research with the University of Florida. You can also swim with dolphins and check out some early Florida film history. It's a place we pass by frequently, and keep telling ourselves we need to stop in and see what's going on. So far, we've managed to put it off. Maybe this summer.
Bings Landing Park: The site of another Civil War-era plantation is also a good point of departure for a kayaking adventure in scenic nearby estuaries. This year we lugged along a kayak to explore the salt marshes and do a little fishing. In just a few minutes on the other side of the Intracoastal Waterway there's a wonderful network of scenic salt creeks. Check out Tropical Kayaks for details.
Palm Coast Vacation Rentals: For vacation rentals, resort information and homes for rent, check out Vacation Rental Pros at 1-904-385-3888.
Palm Coast Dining: You'll find plenty of good chain restaurants in Palm Coast — Outback, Cracker Barrel, Sonny's BBQ. Local's seem to like Thai by Thai for Asian Cuisine and we enjoy the hamburger stand across from Bing's Landing as much for the signage as for ice cream and burgers.