Going camping in the Ocala National Forest? The Ocala National Forest offers a wealth of natural getaways, from more than two dozen primitive campsites to complete resort facilities. Here are a few favorite campgrounds and cabin rental opportunities:
Ocala National Forest Camping:
JUNIPER SPRINGS RECREATION AREA. A perennial favorite, Juniper Springs recreation area offers camping in semi-tropical scenery along the scenic Juniper Creek. The 7-mile spring run is among the most popular canoeing destinations in the state. The unique swimming area at the spring's source dates from the 1930s. Primitive camping is available to backpackers at Hidden Pond in the Juniper Prairie Wilderness. Campsite fees begin at $13 a night, and showers are available. Canoe rentals begin at $23 for the day. The Juniper Springs Recreation Area is located on SR 40, about 17 miles east of Silver Springs. For information, contact the Ocala National Forest Visitor Center, 3199 NE Hwy. 315, Silver Springs Fl 34488. Phone: (352) 236-0288. (Learn more about Juniper Springs.)
SALT SPRINGS RECREATION AREA. Since the turn of the century — when visitors sought the healing power of its slightly salty water — Salt Springs has been a popular destination for campers. The park was completely renovated in 1999. Local activities include fishing, snorkeling, bird watching, hiking and swimming in the spring's headwaters. It's one of the most popular Ocala National Forest camping opportunities. The recreation area is located on State Road 19 in Salt Springs, just north of Highway 314. In addition to tent camping, the recreation area offers full-hookup camping for trailers and motor homes. Showers are available. Primitive campsites cost $13 a night, or $17 with full-service hookups. For additional information, contact the Salt Springs Visitor Center, 14100 North Highway 19, Salt Springs, FL 32134. Phone: (352) 685-3070.
ALEXANDER SPRINGS RECREATION AREA. This scenic spring has been popular with the locals for something like a thousand years. Archaeological excavations have uncovered evidence of native Timucuan Indian settlements dating back to 1,000 A.D., and these are explained on the short nature trail near the campground. The spring provides swimming and snorkeling year-round, as well as one of the better canoe runs in the region. Campsites cost $15 a night, and canoe rentals cost $26 per day. For additional information, contact the Pittman Visitor Center, 45621 South SR 19, Altoona, FL 32702. Phone (352) 669-7495 or (352) 669-3522. (Learn more about Alexander Springs.)
Other popular campgrounds include Hopkins Prairie, Delancy West, Delancy East, Lake Eaton, Fore Lake, Lake Door, Clearwater Lake and Big Bass.
Can You Camp Anywhere in Ocala National Forest?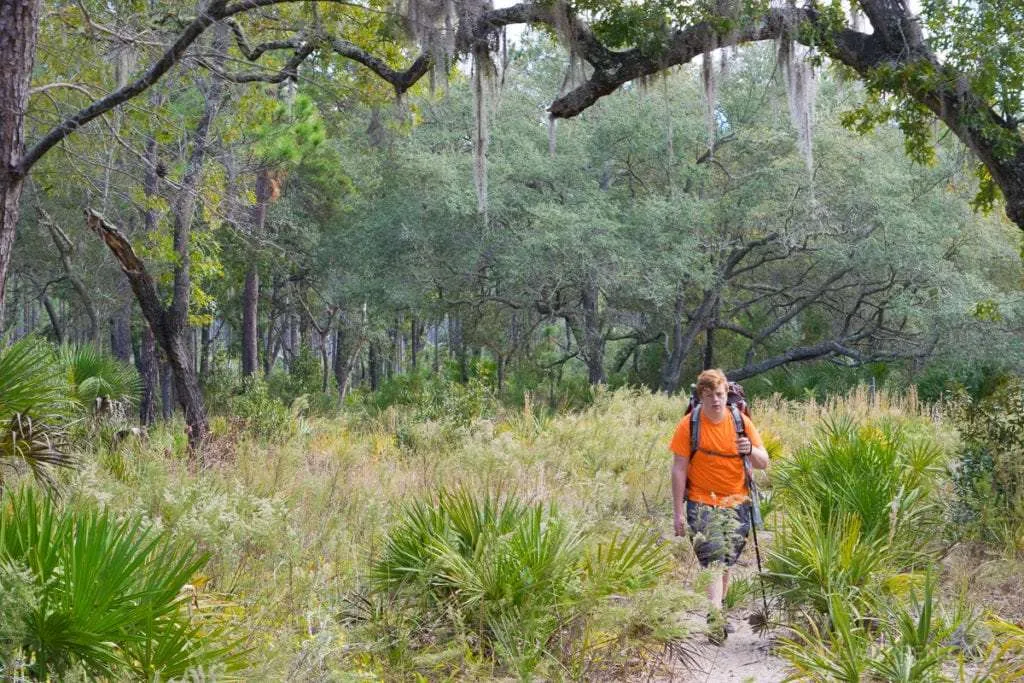 Dispersed camping is allowed in Ocala National Forest for those looking for a truly wild experience. Primitive camping and backpacking requires planning and care. You also have to follow forest rules and regulations. These include leaving no trace, minimizing waste and damage to the natural environment and, of course, fire safety.
The favorite primitive camping locations in Ocala National Forest are Alexander Springs Wilderness, Billie Bay Wilderness, Davenport Landing, Little Lake George Wilderness and Juniper Prairie Wilderness.
Ocala National Forest Cabins:
The Forest Service itself offers a handful of rustic cabins that provide visitors a way to enjoy the natural beauty of the "Big Scrub" without the need to rough it. Here are a few local favorites:
Sweetwater Cabin. This secluded forest paradise is located about halfway down the Juniper Creek run. Built in the mid 1930s as a Civilian Conservation Corps project, it was later the home for the crew of the 1945 movie "The Yearling" starring Gregory Peck. The film won two Oscars in 1947. The book by Marjorie Kinan Rawlings was modeled after the Long family, which lived on nearby Pat's Island. The cabin sleeps 12 people, has a full kitchen and facilities, along with a private deck over Sweetwater Spring. Since it's off-limits to canoeists and kayakers, you'll have the place to yourself. If you're lucky enough to win the lottery, that is. The forest service gives away 52 weeks' stay each year in a lottery starting January 1st. If you win the lottery, you'll pay $800 per week. Call (352) 625-0546.
Elite Resorts at Salt Springs is situated on the shores of Little Lake Kerr, one of the forest's fishing hotspots. The 70-acre RV park has 475 sites and 38 cabins. The cabins are 2 bedrooms each and sleep up to 12 people. Full sized kitchen and cable TV are included. The resort has a variety of amenities. For information call 1-800-356-2460.
Mill Dam Lake Resort offers inexpensive lakefront cabins starting at $195 per week on the off season, or $249 per week after November 4th. Mill dam is a 168-acre lake that has a nice swimming area and respectable fishing opportunities. The cabins include cable and WiFi, and a diner is on the premises. Shopping is three miles away. For information, call (352) 625-4500.
Lake in the Forest Black Bear Resort is an ideal base camp for a week of fishing on Half Moon Lake, which produces many of the area's trophy largemouth bass. The family-operated campground has RV sites, a pool, and recreation center. Six cabin rentals are available. The 1-bedroom cabins sleep 4-6, and include a sleeping loft. The rate is $84 per night or $400 per week. For information, call (352) 625-4500.
Horseshoe Lake Cabins. This retreat and conference center is located 2.5 miles east of Orange Springs on CR318, at the north end of the Ocala National Forest. The park surrounds a spring-fed lake and offers nature trails, fishing, canoeing, and swimming. Cabins are equipped with central air and heat, refrigerators, screened porches, picnic tables and barbecue grills. For info, call (352) 671-8560.
For local hotel and motel information in Ocala and Silver Springs, visit the Ocala Chamber of Commerce for more lodging information. You'll also find Ocala rentals by owner on Ocala4sale.com, a local classified site.