"We feel compelled to warn our readers about this crank in Apalachicola who thinks he can make ice as good as the Lord Almighty." –New York Globe
APALACHICOLA, FL — You may not know the name John Gorrie, but summer in Florida would be unbearable except for the product of his imagination. Every time you gulp a chilly fountain drink, raise a toast to the miracle of manufactured ice! Every time you step out of the sweltering heat and into the delicious cool of a supermarket, give thanks for the man who brought air conditioning to Florida's sweltering summers!
So some anonymous cave dweller brought fire. Big deal! Far more important to us in Florida is John Gorrie — who gave us the ice machine and air conditioner.
So on the hottest week of the year, some decades ago, LuAnne and I determined to pay homage to this man. Our quest took us 240 miles over hot asphalt, with a sky overhead the color of rinse water. The heat index that day reached 115, a temperature that cried out for metaphorical treatment, but that day it was simply too hot to think.
After a tank of gas and couple quarts of cold Pepsi, we arrived at the Gulf town of Apalachicola, a charming fishing village which dates back to the early 1800s when it was a center of cotton commerce. John Gorrie, a young New York doctor, moved here in 1833 and quickly became the big man in town. He would wear the hats of mayor, postmaster, city treasurer, council member, bank director and founder of Trinity Church.
But Gorrie is best known for his innovative treatment of yellow fever patients. At the time, yellow fever and malaria ("mal-aria or bad air") were thought to be caused by miasma, the hot, humid air from local swamps. This seemed logical enough, since outbreaks abated during cool winter months. (Of course mosquitoes, the real cause of these diseases, also disappeared in cold weather.)
Gorrie found that by cooling a patient's room with blocks of ice, he could reduce their fever and save lives. The problem was that it took 500 pounds of ice — shipped from the north in sawdust at $1.50 a pound — to cool a room for a day. At a time when the average skilled wage was $15 a week, Gorrie's treatment was enormously expensive.
So he devised a series of steam-powered machines that harnessed the cooling effects of evaporation and expanding air in a series of tubes and tanks. First, he compressed ordinary air to 125 p.s.i., which heated it to 500 degrees. Then, he added water, which dropped the temperature to 300 degrees by evaporation.
When he allowed the air to expand again to normal, the temperature had dropped below freezing. Eventually, his iron contraption (which is about the size of a modern refrigerator) could produce a brick of ice in about two hours.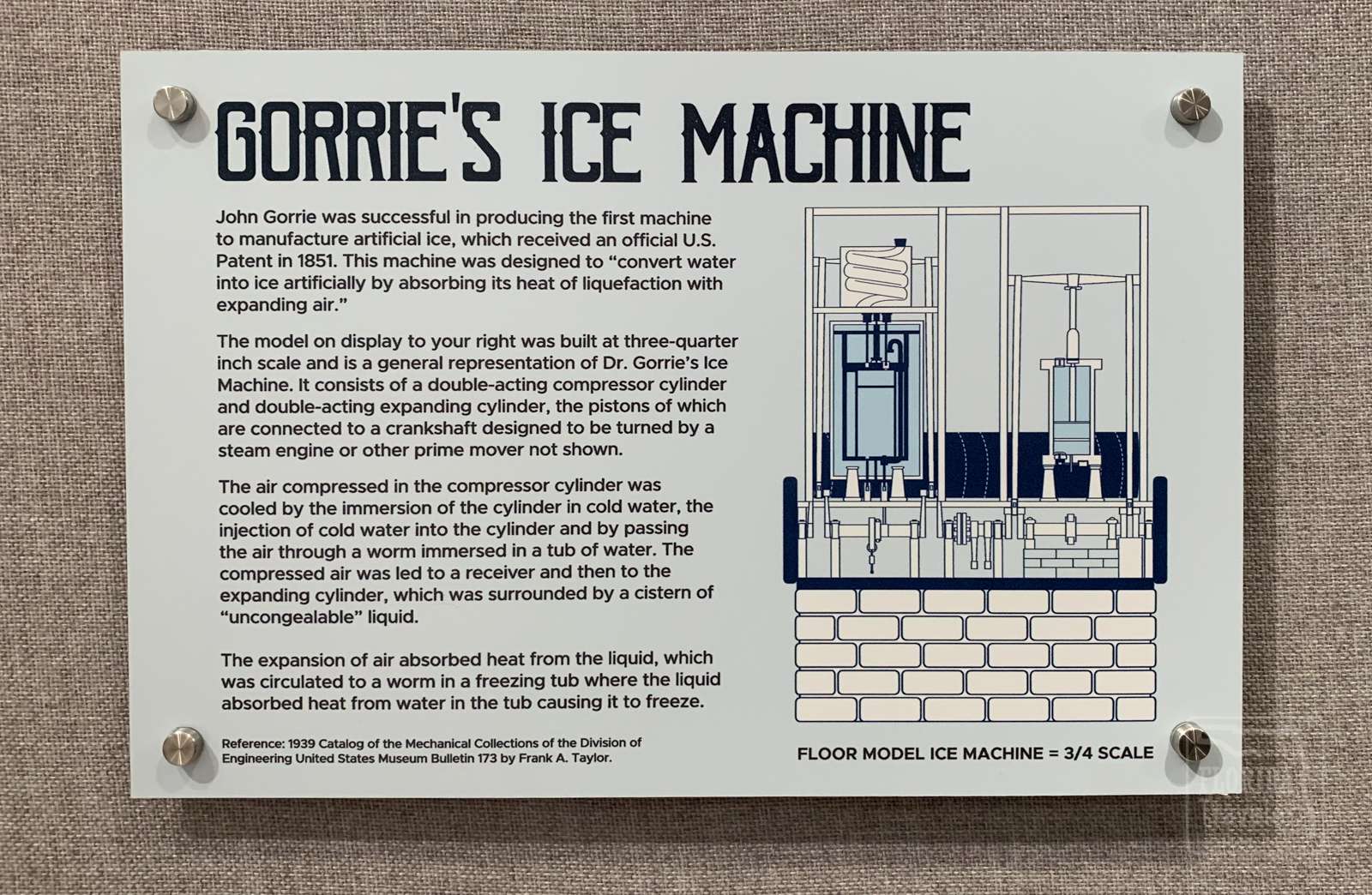 Gorrie received a patent for his ice maker in 1851, but public acceptance of his creation proved more difficult than the act of invention. "In those days, it was like saying you have a machine that will levitate you three feet up or something," Ranger Fred Ingley told us. The press considered Gorrie a quack; the pulpits preached that he was in cahoots with the devil.
Gorrie's ice machine would pave the way for modern air conditioning and would eventually transform the face of the nation. (How many of us would be living in Florida without it?) But he would never see how important his invention would become.
Gorrie's trouble getting venture capital was at least partly the the result of a smear campaign from the "Ice King" Frederic Tudor, whose vast and profitable operation shipped ice from new England to as far away as Calcutta, India. Tudor paid off papers to trash the new technology and spread the rumor that the machines were unsanitary.
In any case, after a failed attempt to market his machines, Gorrie died in 1855 at the age of 52, Ingley said. "I've not found any organic cause of death, and I think he died of depression."
John Gorrie State Museum is located one block off U.S. 319 on Sixth Street in Apalachicola in the Florida Panhandle. Open 9 a.m. to 5 p.m. on Thursday through Monday, except Thanksgiving, Christmas and New Year's Day. Admission: $2.00 per person. Information: 46 Sixth Street, Apalachicola, Florida 32320. Phone: (850) 653-9347.