Deep in the scrub forest of central Flagler and southern St. Johns counties, this 10-mile stretch of red-brick, ghost highway once brought a regular stream of 'Tin Can Tourists' in Model-T Fords from as far as Chicago to the exotic, tropical wilderness of Florida.
Welcome to the Old Brick Road, one of the few remaining segments of the original Dixie Highway. This portion was completed in 1916 but became obsolete within 15 years. What remains is a rugged (and sometimes bumpy) trip down memory lane.
The Dixie Highway was a massive project that brought together private industry and state governments to create a network of paved roads from Chicago to South Florida. The leader was Carl G. Fisher, who had previously created the Indianapolis Motor Speedway ('The Old Brickyard'). The network connected 10 states with more than 5,000 miles of paved road.
The Old Dixie Highway was once a vital transportation artery, connecting towns and communities across Florida in the early 20th century.
This two-lane road, which predates the famous U.S. Route 1, played a pivotal role in shaping the state's development. It facilitated trade, tourism, and the movement of people in an era when automobiles were just beginning to revolutionize travel.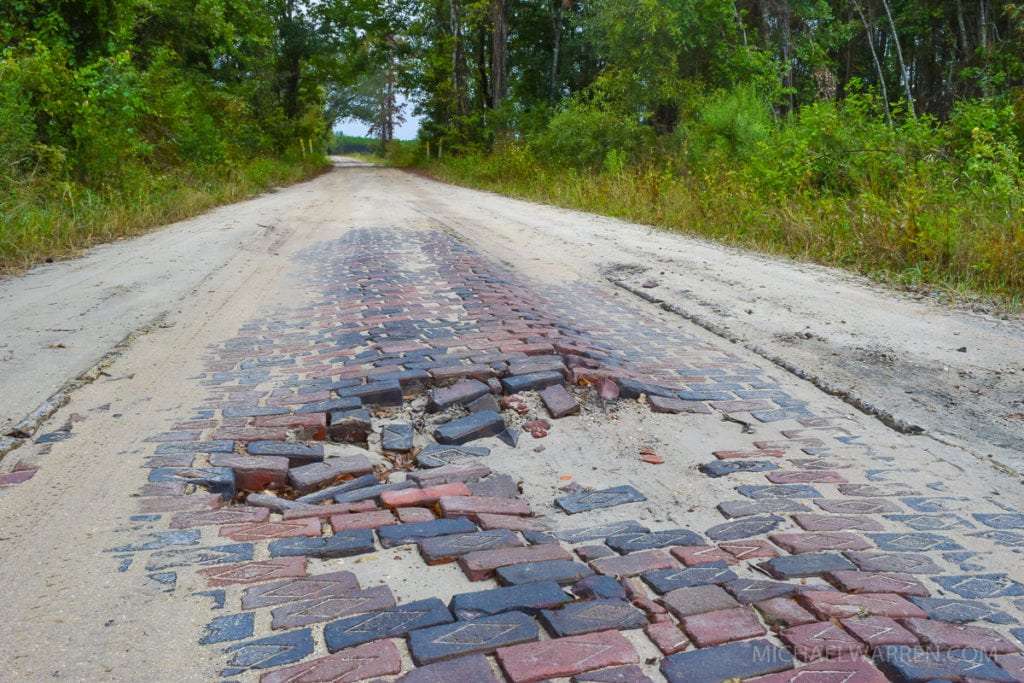 The 10-mile stretch of the Old Dixie Highway in Flagler County once brought more than a hundred tourists a day to exotic tropical Florida in their Model T's and 'Tin Can Trailers.' Today many sections are covered in sand and marked by potholes.
At 9-feet wide, the Old Brick Highway has only room for one car. Fortunately, this forgotten stretch of Florida is not heavily trafficked. On this trip we didn't encounter any other cars as we traveled past mile after mile of slash pine and palmetto.
This ghost highway once connected Jacksonville to Flagler Beach. A hundred years ago the small turpenine and potato-farming communities of Spuds, Byrd, Hurds & Dupont dotted the road. Espanola, now forgotten, was a welcome rest stop with its hotel, restaurant, barber shop and post office.
Many of the highway's red bricks are debossed with the words GRAVES B'HAMALA. It's the maker's mark of bricks that were produced by the Graves Brick Company in Birmingham, Alabama. (You'll also find some of these bricks in the streets of St. Augustine.)
Completed in 1916, the Old Dixie Highway paralleled the railroad in this region, and it was soon supplanted by US Highway 1 and State Highway 100, which connected Bunnell to Flagler. By 1926, just a few years after it was completed, the Old Brick Road became obsolete. Some of its bricks were used to build the Bunnell Elementary School gymnasium.
Photos: Michael Warren