The Crystal River Archaeological site is a 61-acre pre-Columbian Native American site located in Citrus County, Florida, along the Crystal River. The site is significant for its complex of burial mounds and temple mounds, which were built by the indigenous peoples of the area between 500 and 1000 CE.
The Crystal River site is unique in that it contains a group of mounds that were constructed in a precise alignment with the movements of the moon. This suggests that the Native American people who built the mounds were skilled astronomers and were able to accurately track the movements of celestial bodies.
The site is also notable for the artifacts that have been discovered there, including elaborate pottery, copper ornaments, and ceremonial objects. These artifacts indicate that the people who lived at the Crystal River site were part of a sophisticated culture that engaged in long-distance trade and had a complex social and religious system.
A mysterious stone slab discovered in 1964 contains the carved image of a face, although the image is difficult to see today because of weathering. The "stele" may have a connection to similar objects in pre-Columbian Native American sites in Mexico and Central America.
The climb to the top of the main temple mound on the bank of Crystal River rewards visitors with an outsanding view of the scenic river and lush landscape. And at 51 steps, it will bump your Fitbit step count for the day!
The view to the west is a great place to enjoy the sunset over the wetlands and watch boats as they cruise back and forth between the springs and the Gulf of Mexico. It's a relaxing scene, and a rare high view of the surrounding terrain.
Before the state purchased the property, much of the shell mound was used as fill for developing the nearby waterfront properties along Crystal River. Today, the state park is the ideal spot for a picnic along the shore of the river as well as a good spot for shoreline fishing.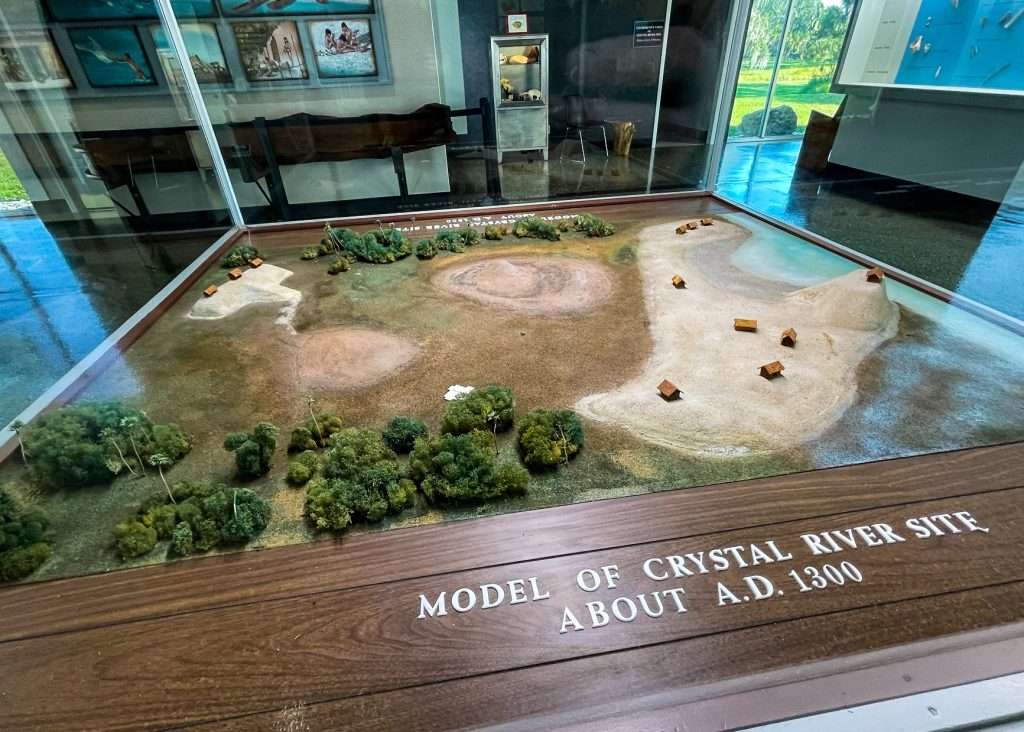 The rich history of the site is on display in the museum, where you'll find a diaorama of the ceremonial and burial moudns as well as artifacts dating back thousands of years. As many as 7,500 Native Americans came to the site each year for burials and religious and cultural ceremonies.
The Crystal River Archaeological State Park is located at 3400 N. Museum Point
Crystal River FL 34428. Admission is $3 per vehicle. The park is open year round from 8 a.m. until sunset. The museum is open Thursday through Monday from 9 a.m. to 5 p.m.