The earliest review of Blue Spring gave the place an 18th-century version of thumbs down. Naturalist John Bartram visited Blue Spring in January of 1766, and found a "surprising fountain … the colour of the sea, [that] smelled like bilge water, tasting sweetish and loathsome."
Fortunately for modern travelers, the chemistry of the spring has changed in the last 200 years. "It no longer has that sulfurous odor," said Dr. Joe Kenner, during the time he served as park biologist in the early 90s. "It would be more appropriately called Green Spring." One of Florida's first- magnitude springs, it produces up to 100 million gallons of water a day.
"When this was privately owned, half the spring run was covered over with boat houses, extending almost up to the spring," he said. "The few manatees that did show up here were harassed. There was just so much commotion that manatees didn't stay."
Now it's hard to imagine the area as anything but wild. Raised boardwalks follow the spring run through primeval-looking hammocks. The spring itself is crystal clear and framed by lush vegetation. But the natural beauty of the area has only recently been reclaimed.
Park officials tore down the boathouses, moved a camping area away from the spring run and created a designated swimming area. Power boats were banned in the spring run, and canoes are prohibited in the winter.
"We made it more comfortable and pleasant for manatees to come in here," Dr. Kenner said. "And we've had almost a steady increase in manatees using the area ever since."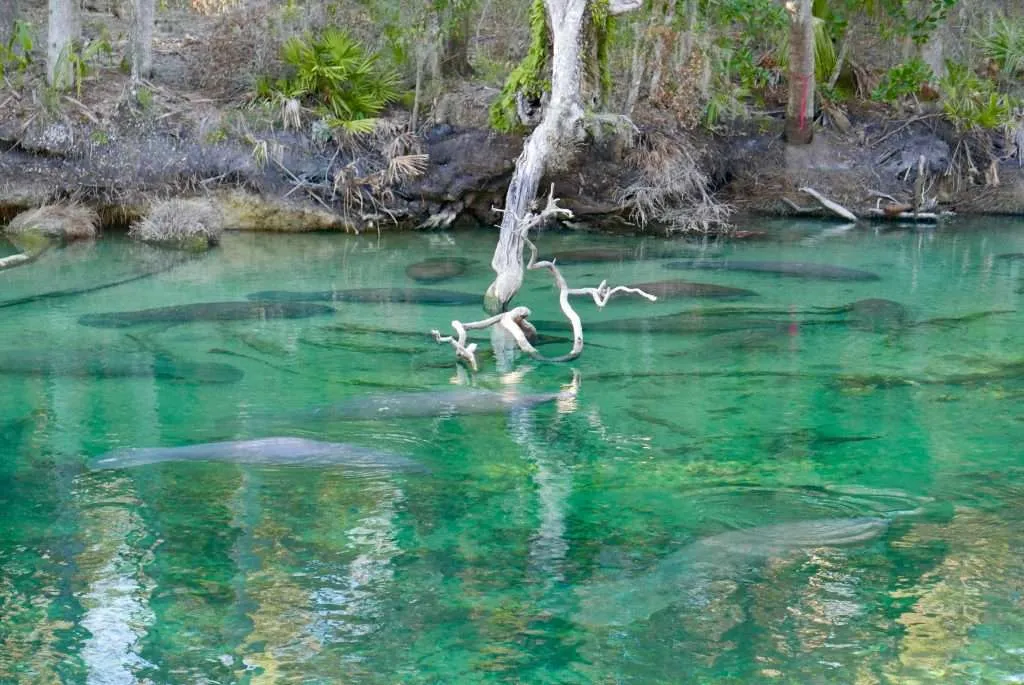 Blue Springs also has 350,000 human visitors a year, most of them during the manatee season. "It's one of very few places you can depend on seeing manatees from the shore. You're virtually right over them." (It's not a place you can swim with manatees, though. For that, try Crystal River instead.)
Blue Springs was originally a Timucuan Indian village. The east end of the spring run near the St. Johns River is an enormous mound of snail shells. "It's believed that they intentionally piled shell up to make their houses safe from seasonal flooding. The shells were accumulated over 3,000 years."
Obviously snails were a popular meal. "They had them at every meal," Dr. Kenner said. "There was always a pot of snails cooking." This part of the St. Johns River was colonized soon after the Seminole Indians were driven away, Dr. Kenner said. And after the Civil War, the region became an important source of lumber for rebuilding cities destroyed by the war. "Since cotton had never been a popular crop in Florida we still had a lot of virgin pine forests in the late 1800s," Dr. Kenner said.
"So in came the lumber interests establishing the saw mills along the St. Johns." The pine and cypress was hauled 150 miles to Jacksonville by steamboat. "This was a shipping point, a staging area. The whole place was pretty rowdy. In the steamboat era you're talking about frontier Florida. This was pretty wild country down here at that time."
In addition to swimming, picnicking and canoeing, Blue Springs also has a four-mile hiking trail that meanders through flatwoods, scrub and hammock.
Alternate Trip: Rent a pontoon boat in Sanford, Florida and cruise up the St. John's River to Blue Spring. For more information, visit Fun Maritime Academy on Lake Monroe.
[FBLikeBox]
***
[Links]
Blue Spring State Park Info:
Directions: Take exit 114 off Interstate 4 and follow the signs. Go south on 17/92 to Orange City, about 2.5 miles. Make a right onto West French Avenue.
Admission: $6.00 per vehicle.
Camping: $24.00 per night.
Cabins: $95.00 per night
Contact:
Blue Spring State Park
2100 West French Avenue
Orange City, Florida 32763
Phone: 386-775-3663
More Information:
Unless otherwise credited, all photos are © Copyright Michael Warren.